25 years ago this week, the Seattle-based rock band Nirvana released its seminal album Nevermind to the masses. Packed with genre-defining hits like "Come As You Are," "Lithium," and of course "Smells Like Teen Spirit," Nevermind eventually managed to unseat the "King of Pop" Michael Jackson from the top of the charts and ushered in a brand new era of alternative rock music.
Almost as iconic as the music within the record is the album cover itself. The image of an infant baby submerged in a swimming pool chasing after a $1 bill on a fishing hook has become etched into pop culture. To celebrateNevermind's silver anniversary, the man who was once that baby, Spencer Elden, recently slapped on his swimming trunks and attempted to recreate the image.
"I said to the photographer, 'Let's do it naked.' But he thought that would be weird, so I wore my swim shorts," Elden explained to the New York Post. "The anniversary means something to me. It's strange that I did this for five minutes when I was four months old and it became this really iconic image."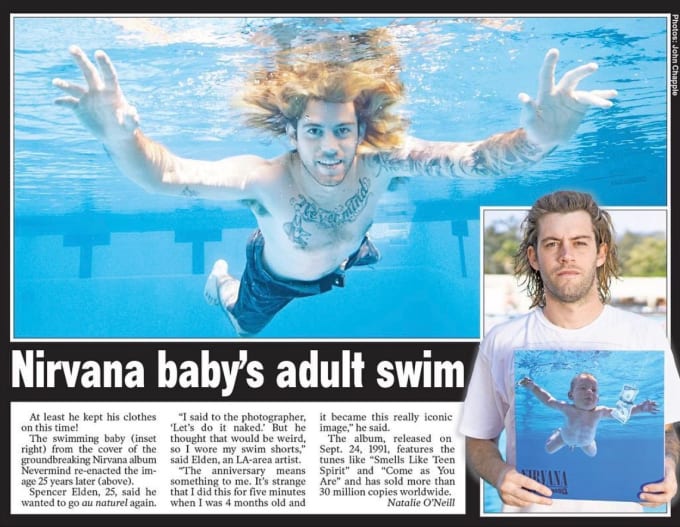 As much of an impact as the album and the cover made on the world, it's plain to see it had an enormous impact on Elden as well. You only need to see the gigantic tattoo on his chest that reads "NEVERMIND" to get a sense for how important that record has become to him. "It's cool but weird to be part of something so important that I don't even remember," he said.
As for the rest of Nirvana, they actually never had the chance to meet the person who adorned their breakthrough album. "I've never met him," drummer Dave Grohl admitted to TMZ. "We weren't there the day that they did the photo shoot, so I don't know. I've seen him in magazines and stuff."