Thanks for following us tonight from Vegas.
'The buzz here in Vegas is as big as anything I've ever felt,' says Dana White as he and Joe Rogan do their best to sell the pay-per-view card to the Amerian viewers…
NATE DIAZ HAS BEATEN CONOR MCGREGOR!
OH MY GOD! NATE DIAZ HAS BEATEN CONOR MCGREGOR! HE'S ACTUALLY DONE IT!
That was incredible!
Absolutely incredible.
McGregor is beaten.
Nate Diaz has beaten Conor McGregor.
https://twitter.com/ufc/status/706354794848350208
Conor McGregor (19-2-0) v Nate Diaz (19-10-0) – welterweight
Could he look any more relaxed…
Holly Holm (10-0-0) v Miesha Tate (17-5-0) – bantamweight title
She's waited a long time for that belt.
Talking to Joe Rogan after being announced as the new UFC bantamweight champion, Tate said: "I waited so long to hear you say that, Joe.
"I feel like we had a great gameplan, we had to be patient. She's capable of catching anyone at any moment. She's a very calculated fighter.
"This is obviously a very emotional moment for me.
"I knew I had to finish the fight. I had to find that perfect time. I had to be patient.
"I thought I had to be like a pitbull on a bone, she wasn't getting out of that one."
And here is THE moment of Miesha Tate's career:
https://twitter.com/btsportufc/status/706351107962843137
WOW – TATE WINS BY SUBMISSION (RKO)
Has Holm taken the fourth?
Edge-of-your-seat stuff. It's another round which could have gone either way, but perhaps that one went the way of the champion. The first and fourth could have gone either way.
Tate's corner tell her she won that round. I wouldn't be so sure.
Fifth and final round!
Holm wins the third
Much better round from Holly Holm and she's right back in this. It was a missed punch that saw her taken down by Tate in the second.
She was cautious not to make that mistake again.
Tate needs to attempt more takedowns.
What a round!
Wow! What a round!
Tate with the takedown! The first round was anybody's call, but Tate does what she needed to do and takes the fight to the ground. Holm had absolutely no say in that round. The challenger had a tight headlock at one point then switch to ground and pound, then moved to Holm's back and was moments away from a submission. I've no idea how Holm survived that but she was constantly squirming and somehow survived.
That should be 10-8 Tate.
A very cautious opening round
…again… but I think Tate's taken that one.
There's practically nothing between them but Tate did land a couple of good punches (as did Holm, in fairness), she's looked comfortable, she's slipped a number of Holm's punches.
Tight opening round which could have gone either way, but I'm going with Tate.
Gian Villante (14-6-0) v Ilir Latifi (12-4-0, 1 NC) – light-heavyweight
Ilir Latifi wins via unanimous decision!
Well there we go, 30-27 to Latifi. The takedowns won him the second round, but neither man will be impressed with their performances.
Anyway, moving swiftly on, we've got our co-main event next.
Holly Holm's first title defence against Miesha Tate is minutes away!
All square?
What a takedown from Latifi! A German suplex right out of the wrestling playbook, but he couldn't do much with it from there. Villante lands some more kicks and that might be enough to win this round. You know this fight could end any second, and maybe that's what they're both wary of – each other's power.
The crowd are booing and understandably so. These two need to force the issue if they want to secure the win.
Villante/Latifi is underway!
Following what's becoming something of a pattern, we've got a fairly low-key opener. Villante went for a kick which Latifi caught before connecting with a left hand, knocking Villante back.
The Swede moved in for the kill but couldn't finish the job. He may have done enough to take the round, though.
Latifi is told by his corner: "Don't commit too much. Mix it up a bit. Go for the body, go for the head."
Corey Anderson (8-1-0) v Tom Lawlor – light-heavyweight
Corey Anderson wins by unanimous decision!
30-27, 30-27, 29-28, all for Corey Anderson! How about that!
The crowd boo. Tom Lawlor looks bemused. Even Anderson seemed surprised!
Anderson didn't seem overly troubled by that first-round flurry. he said: "I was stunned a little bit. I was rocked a little bit. Then I recovered. My recovery was good, my cardio is amazing."
They go the distance!
Much better from Anderson but he probably needed a stoppage. He dived in to get the takedown and tried various positions but was limited to some scoring ground and pound. It was enough to win the round, easily, but was it enough?
Maybe if it was a 15-minute, one-round fight, Anderson would take this, but did he win either of the first two rounds? I'm not sure.
Decision to come!
Lawlor two rounds up?
A very close second round with both men just picking each other off with shots now and then but neither landing any decisive, round-winning blows. Similar to the first round, maybe Lawlor wins for his work rate and Octagon control. He hit Anderson with a flurry in the dying seconds. That might have been enough.
Lawlor takes the opening round
Another interesting opening round which Lawlor probably takes. There wasn't a whole lot to choose between the two for the final four minutes of the round but Lawlor glued himself to the centre of the Octagon after a really good flurry early doors which had Anderson in trouble.
It looked like he thought he had the round won in the opening minute and just did enough to secure the 10-9.
Amanda Nunes (11-4-0) v Valentina Shevchenko (12-1-0) – bantamweight
Nunes takes the win
The Brazilian makes picks up her fifth UFC win and moves one step closer to the title.
29-28, 29-27, 29-27, all for Amanda Nunes. Some more 10-8 rounds which were fully deserved. Poor third round, but a good decision.
Nunes is someone who typically gets her work done early. Her post-fight interview suggests she may have been tired by the end. She said: "This is a very tough fight for me, because I never fight three rounds."
Nunes says she 'dreams of Miesha' and makes clear her desire for a title fight. Is that a premonition?
They go the distance!
Much better from Shevchenko, who was in the ascendency, desperately needing a finish and putting her opponent in trouble on the ground but Nunes squirmed out brilliantly and brought the fight to their feet.
Shevchenko certainly won the round. Nunes couldn't have got away with that if she hadn't won the first two rounds. As it is, she should still have a decision coming her way.
Decision to come!
That was close
Amanda Nunes looked almost certain to lock in a submission then as she took the back of Shevchenko but the Kyrgyzstani kept her chin down and toughed it out, ending the round on top.
McGregor in the house:
Cruising to the office. #FightNight #UFC196 https://t.co/qumGHvujKU—
Conor McGregor (@TheNotoriousMMA) March 06, 2016
Along with some others…
PRELIMINARIES ( from 2pm NZ – Sky Arena Free)
Brandon Thatch (11-3-0) v Siyar Bahadurzada (21-6-1) – welterweight
Siyar Bahadurzada defeats Brandon Thatch by submission (arm triangle) R3
What a performance! Disappointing from Thatch, who had no idea how to deal with Bahadurzada, but for someone who last fought in December 2013 he controlled that fight throughout.
The first round was closer but The Great should have 10-9 rounds on all the judges' cards for rounds two and three.
Thatch needed a finish and never came close to one. Bahadurzada on the other hand took Thatch to the ground and secured a comfortable arm triangle.
Erick Silva (18-6-0, 1 NC) v Nordine Taleb (10-3-0) – welterweight
Nordine Taleb defeats Erick Silva by KO (punch) R2
WOW! Nordine Taleb wins by knockout! What a knockout!
Silva was stepping things up but his front kick to the body was caught by Taleb, who in turn threw a massive straight right hand.
Silva goes down instantly, Herb Dean steps in.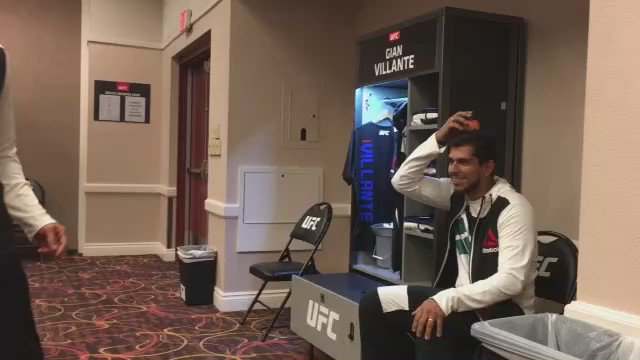 Vitor Miranda (12-4-0) v Marcelo Guimaraes (9-1-1) – middleweight
Vitor Miranda defeats Marcelo Guimaraes by TKO (strikes) R2
Brilliant finish from Miranda!
Guimaraes went in for another takedown with Miranda up against the cage and he landed himself in a lot of trouble.
With his head against Miranda's hip, the 36-year-old launched a number of elbows into the back of Guimaraes's head. He backed off only to take more strikes leaving him dazed and wobbly.
Darren Elkins (20-5-0) v Chas Skelly (15-1-0) – featherweight
Darren Elkins defeats Chas Skelly by unanimous decision (30-27, 29-27, 30-26)
EARLY PRELIMS (from 12.30pm NZ)
Diego Sanchez (27-8-0) v Jim Miller (25-6-0, 1 NC) – lightweight
Diego Sanchez defeats Jim Miller by unanimous decision (29-28 x3)
Jason Saggo (10-2-0) v Justin Salas (12-6-0) – lightweight
Jason Saggo defeats Justin Salas by TKO (punches) R1 4:31
          Jason Saggo is declared the winner against Justin Sala
          Jason Saggo lands punches against Justin Salas
Julian Erosa (15-3-0) v Teruto Ishihara (8-2-2) – featherweight
Teruto Ishihara defeats Julian Erosa by KO (punch) R2 0:34